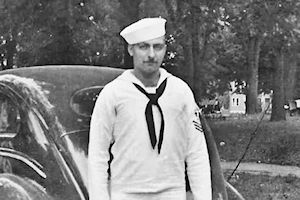 David Joseph Riley, foster cousin of the organist, was born in the Green Bay, WI area on February 18, 1916. Almost nothing is known of his earliest years, other than in 1927 at age 11, he became the foster son of the organist's maternal great granduncle, Elmer Asmus, and his wife, Della Matzke Asmus, of Juda, WI. David was their only child, as they had no biological children of their own.

David lived on a farm in the Town of Sylvester with his foster parents and attended Juda High School and Zion Church. As a young adult, he worked at a bakery in nearby Monroe, Wisconsin and was a cook at the Moose Café (now Amy's Corner Café), also in Monroe. Prior to enlisting for a six-year stint in the Navy in May 1940, he served in the Wisconsin National Guard. (The photo shows David home on leave in July 1940 at Lincoln Park in Monroe, Wisconsin before heading to Bremerton, WA to be assigned to the USS Oklahoma.)

At 25 years of age, Seaman Second Class David Joseph Riley lost his life on December 7, 1941 aboard the USS Oklahoma during a surprise Japanese military attack on Hawaii's Pearl Harbor. In the days, months, and years following the attack, remains of men lost aboard the ship were recovered, but few were identified. Starting in 2015, the Defense POW/MIA Accounting Agency (DPAA) used forensic technology, including genealogy and DNA, to identify those who were previously unaccounted for, so that the remains of these fallen soldiers could at long last be returned home.

Because David was a foster child, his path back to Juda after his remains were identified on February 24, 2021, was a long and complicated one. But on Saturday, May 27, 2023, David will be remembered and honored, and finally laid to rest at Mt. Vernon Cemetery in Juda with his foster parents. There will be a 45-minute memorial program that day at 11 am at Juda High School, to which the public is invited and encouraged to attend, followed by his inurnment at the cemetery with full military honors. David will also be remembered on Monday, May 29 at 10:30 am as part of the annual Memorial Day ceremony at Mt. Vernon Cemetery.

As the first casualty of WW II from Green County, the Zilmer-Riley American Legion Post # 84 in Monroe is named in part for David. The Green County Historical Society houses many of the documents and medals related to David's military service, including his Purple Heart.